I want to be a hippie...
24/10/2014 08:57 |
|
Comments:
...doing speed. To be more accurate, doing some speeding. All I need for that is a pro-tourer shoebox, with some air-cooled flower power.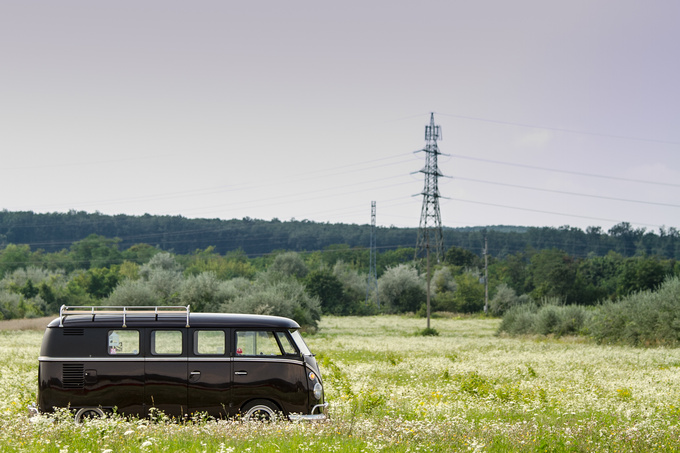 It's not about the funds really. I mean sure, you do need them, but then again, it's really a question of quality vs. quantity. The other day I saw an article about the insane (?) car collection of  Lebron James. Let's see: Ferrari Italia, S63 AMG, 911, Bentley Continental GT etc. How original. At least he has an Impala lowrider. The car, if it's more than a household appliance, tells a lot about the owner, and let's not kid ourselves, it has to have a bit of headturning-capability.
That, however, should not only come from the car being some fancy, expensive luxury-item. It has to have a bit from the owner's personality. Something custom-made, unique, bearing the sign that this car is loved, and it's the result of imagination and hard work. Exhibits A, B and C: this Volkswagen Transporter, or T1, ory Typ2, whichever your preference may be.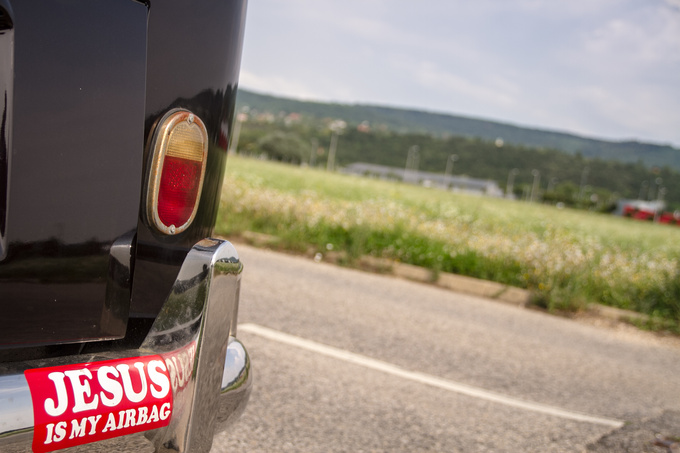 From a fraction of the Bentley's price, which is quite a lot actually, Bushi, the owner, managed to pull that off, and a bit more. Well, a lot more. Unlike Rudi, my partner in crime, and organizer of this review, I'm not really tapped into the air-cooled scene. He tells me that Bushi seems to be going through the typical VW-enthusiast mutation: the more you let yourself be dragged into having and tuning an air-cooled VW, the more beard and tattoos you'll have. The oddball here is probably our other colleague, Zsolt Göbölyös, who on the outside can fool anyone that he is a well-shaven, responsible businessman, but away from prying eyes, he's building Beetles that do 13-ish seconds on the quarter mile.
Bushi's bus started out as any other T1 out there: a result of Ben Pon's practical brilliance. In 1947, the Dutch businessman decided he would start selling Beetles outside of Germany. He started out in the Neteherlands, and then, after a successful three year run, he expanded his business overseas. The Americans loved the goofy little German car, which resulted in Ben Pon being the official Porsche-dealer in North America.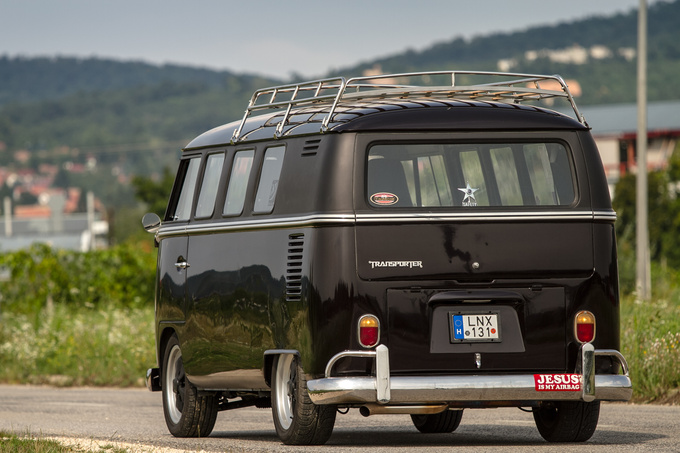 Legend goes that he came up with the idea of the Transporter. When he visited Wolfsburg on April 23rd, 1947, he saw the local workforce using small trucks to move material around. These clumsy vehicles, dubbed Plattenwagen, were built using a Beetle chassis, engine, powertrain, and the works. Ben Pon immediately started sketching in his notebook, and so the idea of the Transporter was conceived. Of course, his idea was somewhat rough around the edges, so a lot of work had to go into it.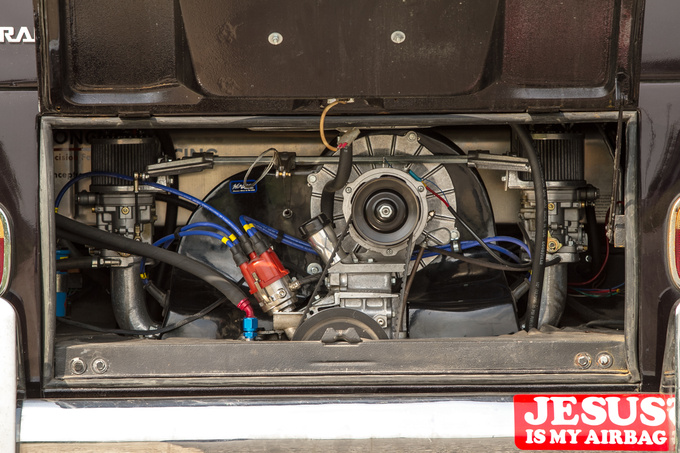 One of the things I miss a lot in today's cars –well, the cars of the past fifty or so years – is the split window. I mean, sure, in terms of functionality and safety it's on par with live rear axles, but hey, there are still Mustangs around, so why not the split window? Though I love the form, it was a result of function. Same was the reason for the T1 being history's only car that wore a thong on it's nose: aerodynamics! The Transporter had the drag coefficient of a midsize warehouse, so they split the windscreen and pulled a thong on the nose... at a time, when there were no thongs yet, so it managed to avoid the Thongporter-type bad puns.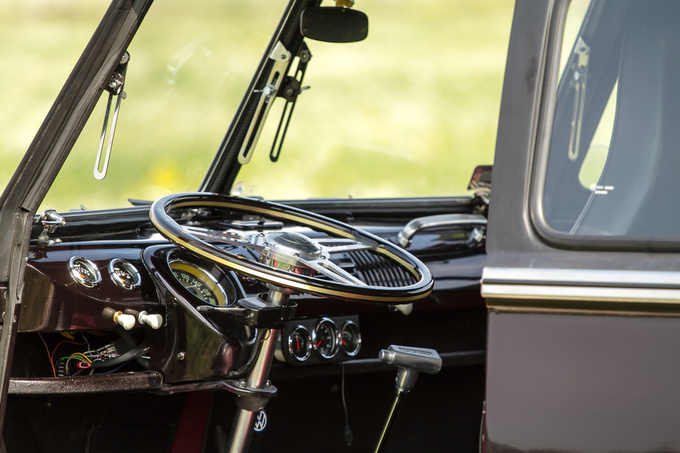 Even though it needed a lot of time to accelerate, even more to decelerate, and was as stable at 'high' speeds as  Gary Busey at a Hollywood party, people loved it. It was cute, reliable, easy to maintain and you could cramp in a whole rock band (groupies included) with their instruments. No wonder it was one of the symbols of the Woodstock-generation, and that it managed to stay around for 25 years, the last ones were built only in Brazil until 1975. And today they are among the most sought after vintage cars.
Bushi got his hands on his T1 in 2009. A friend of his found it sticking out from a garage. It lacked a recognizable nose, and its side suffered some continuity-issues. The interior was full of custom-made levers, as the previous owner, who sold cotton candy out of its back, could only use his hands for driving. The 1965 T1 was very far from good, let alone original, so Bushi scratched the idea of a conservative restoration. Instead, he decided to build a bus that can be used every day, go on long trips, while being a part of the traffic, not an obsticle for it.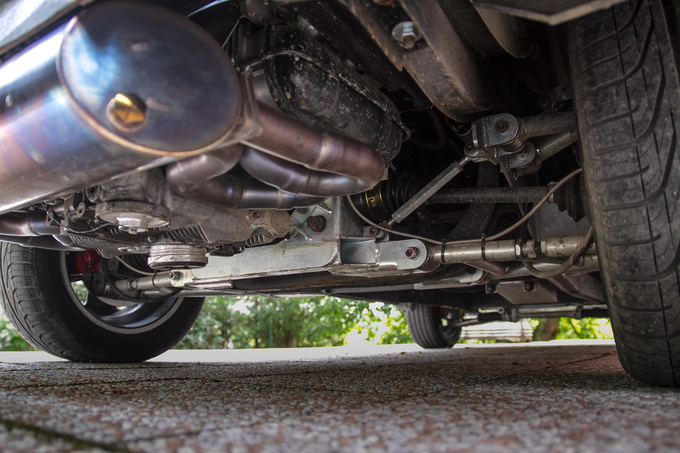 Easier said than done of, course. He had the body brought back to shape, and gave it a two-tone paintjob. The Mazda6's dark purple on the bottom and matte black on the top. The engine was another matter. He started out with a 1600cc, 50PS, F-code engine, but that was hardly enough to gain momentum, let alone for any real speed. Bushi then turned his attention to a 2000cc, Typ4 engine. With a Robur-turbine and two carburettors, he now had a 100 PS to work with. Given, of course, the engine was willing to work, but there were constant problems.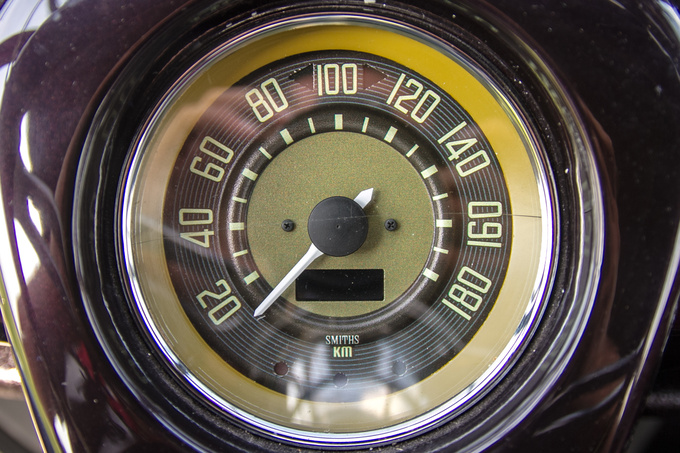 The next idea, which is close to sacrilege even by the standards of my very loose ethics, was to put a Subaru-engine in it. It's not that uncommon though, as there are various kits available, especially in the UK. But even desperation can be blessed with luck, as he bumped into the final solution on the Split Screen Van Club Forum: a Jake Raby's Aircooled Technologies 2270cc 165HP engine kit, including the unique DTM (down-the-middle) upright cooling system. To call this luck is a mild euphemism, as there is a 2-3 year waiting list for those. Bushi bought the kit, which already included the core 1.7 engine block readily prepared by Raby from a Porsche 914 and took the whole pack to Vintage Speed in England. Thanks to the kit and two '45 Dell'Orto carburettors, the T1 now had 165 PS to work with.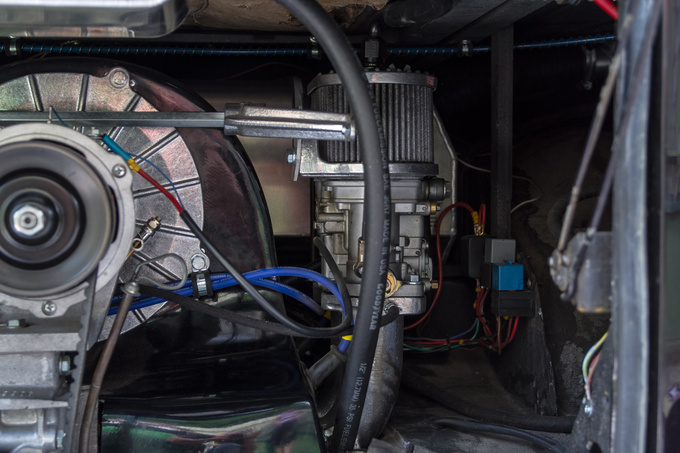 As the goal was a bit more than building an American muscle car out of a German bus, Bushi wanted to have the suspension and the brakes brought up to the same standards. The Transporter's front and rear-end torsion bars were very far from that, not to mention some stability over 70kph. The solution came from England, in the form of Red9 Design's torsion conversion kit, including springs and adjustable shocks. The brakes, both front and rear were upgraded to discs, hidden behind a set of 1972 Porsche-wheels. The interior also got a major overhaul, with purple and red benches in the back, and two Porsche seats in front, in the same colors.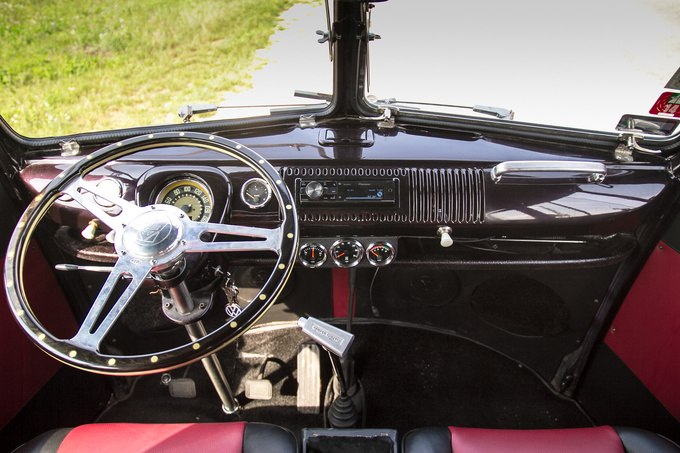 I could go on for ages about what else was customized, but I hope you'll believe the lie that the internet has limited space. It's a lot more important how the bus drives.  Rudi took the wheel first, and after some drooling over the dash, and detailing which of my organs he would sell to get his hands on the bus, we switched places. If I had to summarize it in one word, it was weird.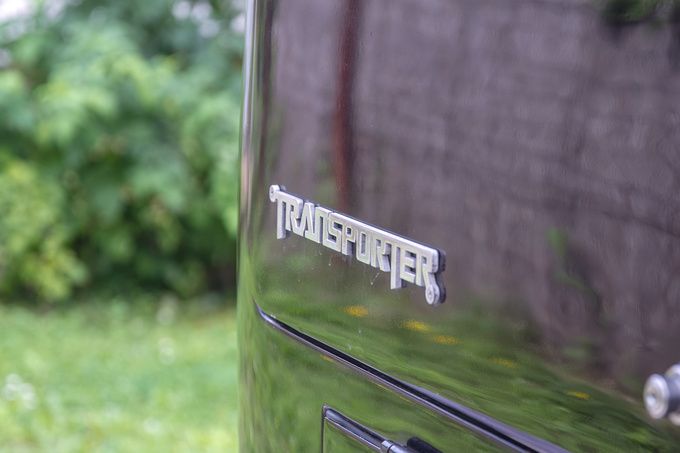 To be frank, I like weird. Looking at the bus, I felt a bit sorry for it at first. It looked like one of those cute stray dogs that you take in, after which it tries to protect your front yard by looking tough. As I was getting in, it already bit me, as I hit my head into the doorframe. The same thing happened when getting out. Finding the right seating position was another matter. By today's standards, it's as ergonomic as a barstool, so it's good that the wooden steering wheel, with a Desepticon-logo, is there to provide some additional support. I was just hoping that it won't end up like Michael Bay's Transformers: fancy looks without any content.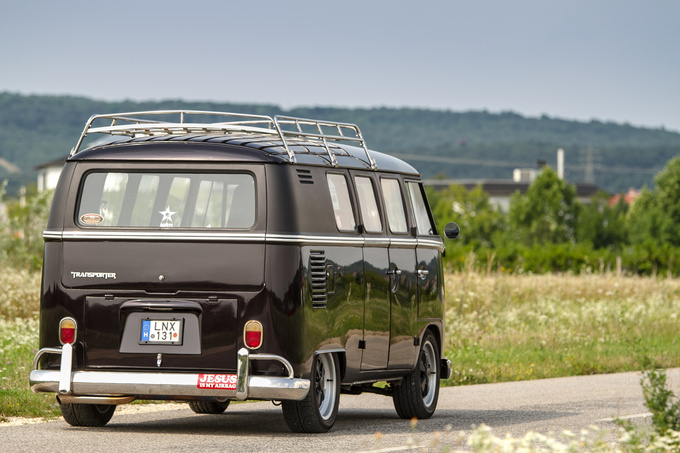 It didn't, as it was major fun, after I realized that I shouldn't step on the clutch pedal, but sort of push it forward, as it's stuck out from the floor on a little bent rod. Same went for the brake pedal. Pushing the latter resulted in becoming stationery. Immediately! No slowing down, just stopping. The steering was precise, without even a hint of hesitation. It drove more modern than some of today's cars. The suspension, though stiff, was not a least bit uncomfortable. Awesome!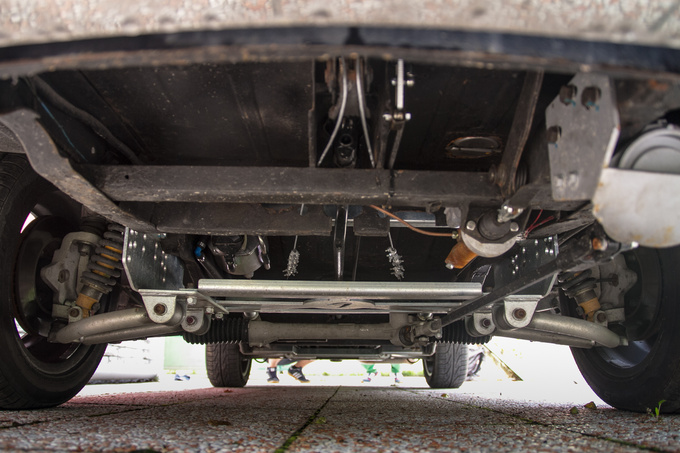 But the real star of the show was the engine. It was in perfect sync with the custom-made, semi-racing transmission, and I had to look long and hard to find the spot where the engine would lose power. Well, I couldn't. It brought instant power on the whole spectrum of the revcounter. It wasn't neckbreaking but steady and reliable, which means there's never a reason for hesitation, when a truck needs to be overtaken. Or two trucks.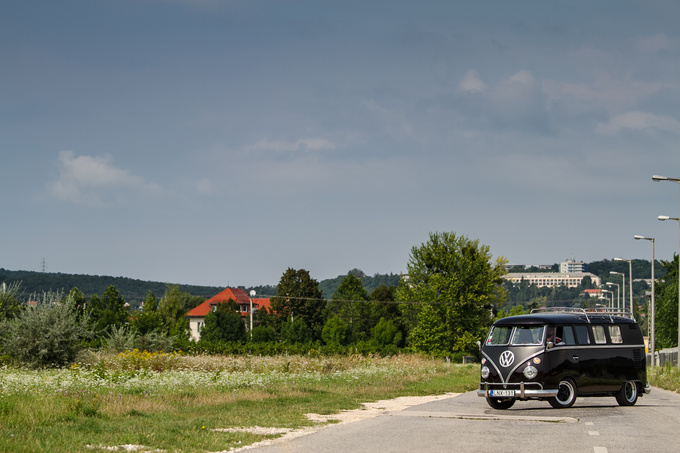 I have to admit, I fell in love with it! It's one of those rare occasions, when the stars of looks, usability, power, uniqueness and vintage charm align and result in a perfect mixture – sans the color of the interior. And Bushi knows that; hence his pride and affection, when it comes to the bus. It's there to be used and enjoyed at any- and pretty much every time possible. He wouldn't have it any other way.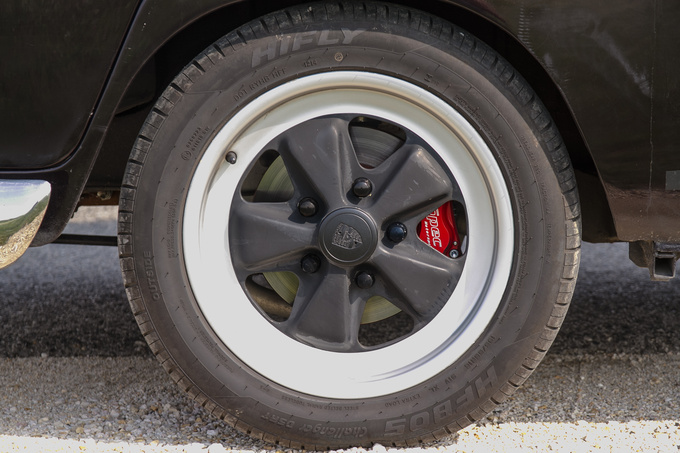 It's easy to be sceptical, given the long list of custom parts, built in some hidden sheds. But to quiet any debate, I have to tell you that the bus has proven itself. After it was finished, Bushi drove it back to Hungary from England, with some minor detours through Paris, Geneva, Zürich and Grossglockner. And you know how much service it needed, after going almost 4000 kilometers in 11 days? A minor adjustment to the rear suspension!
Dear reader, please like us whether you came here intentionally or not. We'll like you too!
Follow Us On Facebook!