A rare Lamborghini in flames
Another Murcielago gone
The car got away with minor injuries from hitting the pole, but it didn't stand a chance against the fire.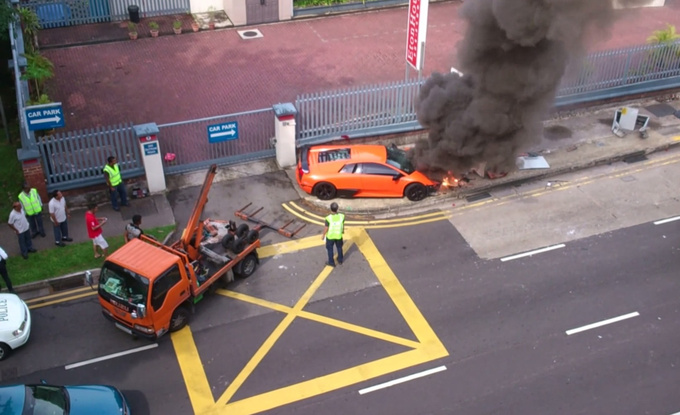 There's a preconception that expensive Italian sports cars catch fire too easily, either spontaneously or following a crash. This prejudice is hard to shake if we keep hearing stories about Lamborghinis and Ferraris going up in flames. And we do. A rare Murcielago SV hit a pole on the streets of Singapore recently. It survived the crash and was already being towed away when for some inexplicable reason its front caught fire.
The Lamborghini Murcielago LP670-4 Super Veloce was officially introduced to the public at the 2009 Geneva Motor Show. The first to earn the SV title following the Diablo and the Miura, the unique Murcielago is powered by a V12 engine with a total output of 661 PS. Compared to the standard model it features an upgraded intake system and valve timing, and weighs 100 kilograms less thanks to the use of carbon fibre.
Of the planned 350 cars only 186 were ever made of the Murcielago SV. The one that crashed into the pole might be reparable, but it won't be cheap.
Source: Inautonews.com
If you liked this article, please share it with others so that they may also see it. You can find the Facebook, g+, Twitter, Reddit and Pin It! buttons at the top of the page.
Dear reader, please like us whether you came here intentionally or not. We'll like you too!
Follow Us On Facebook!