Dubai police adds a Renault Twizy to their fleet of supercars
Fighting crime with an electic sub-microcar
The Lamborghini Aventador has already gone on duty and the Bugatti Veyron is arriving any minute. In the meantime, the police of Dubai have acquired a small electric car.
The Dubai police have been busy lately extending their car fleet with luxury sports cars to be able to chase the speeding drivers and entertain the tourists. They already boast an unparalleled car collection including an Aventador, a Ferrari FF, a very rare Aston Martin One-77, and there was talk of a Bugatti Veyron too.
Such cars are hard to top, so it is understandable that the more recent additions, the BMW M6 Gran Coupe and the Ford Mustang got somewhat less attention. The announcement of the arrival of the Bugatti will be even harder to beat. But the Dubai police have a new trick up their sleeve: they have set their eyes on the Renault Twizy, the butt of jokes due to its science fiction-like shape and size, which rivals that of the Smart. The tiny electric car has already been tested by Dhahi Khalfan Tamim, Lieutenant General and Chief of the Dubai Police Force.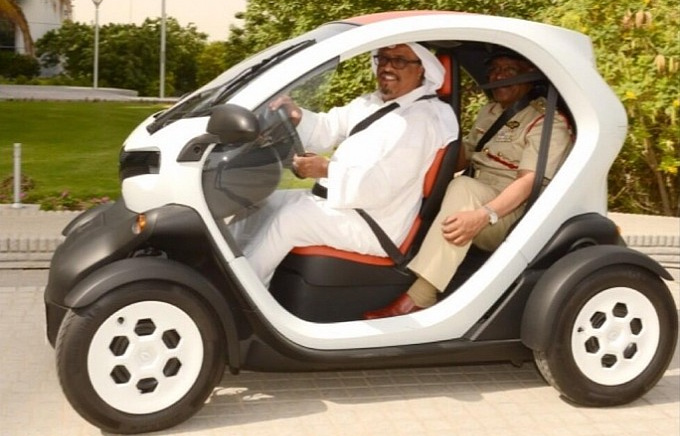 The electric car is available with a 5.0 and a 17.0 PS engine, capable of a top speed of 45 and 80 km/h respectively. Whichever the Dubai Police are to buy, in some situations the small size of the Twizy can be a big enough advantage to compensate for its slowness.
Source: Autoevolution.com
If you liked this article, please share it with others so that they may also see it. You can find the Facebook, g+, Twitter, Reddit and Pin It! buttons at the top of the page.
Dear reader, please like us whether you came here intentionally or not. We'll like you too!
Follow Us On Facebook!