Driving a Jeep into a pool
A crazy stunt from Canada
It's amazing what you can do with a garden pool and a Jeep Cherokee. You can for example get your 15 minutes of fame on the internet, like these four guys from Canada.
Andy Warhol used to say that in the future everybody would have his 15 minutes of fame. Well, the future is now, much to the delight of people like the guys in this video driving a 1.5-ton Jeep Cherokee into a pool. The boys living south of Ontario have even edited a great video about their unusual number.
The wall of the pool put up a surprising resistance even though the shanty springboard made of pallets wasn't much of a help in making the Jeep jump the pool, which the boys had previously driven into on bikes and a mini bike.
Everybody knows that a pool lends itself for a variety of crazy things, but this stunt has introduced a brand new form of entertainment. The Americans needn't be afraid though, the prestige of the Nitro Circus is safe from these Canadians who even took a jet-ski to the water remaining in the wrecked pool in the end.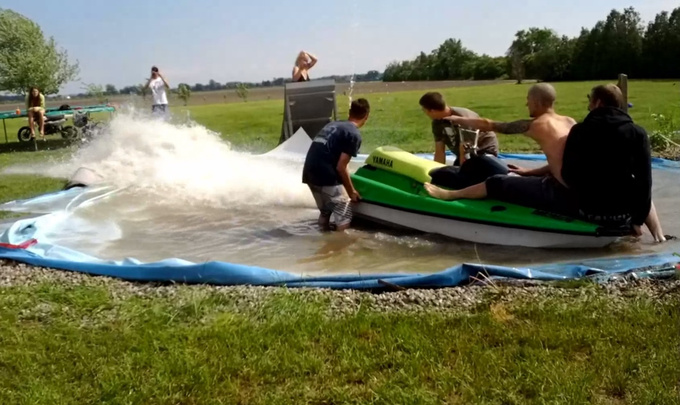 If you liked this article, please share it with others so that they may also see it. You can find the Facebook, g+, Twitter, Reddit and Pin It! buttons at the top of the page.
Dear reader, please like us whether you came here intentionally or not. We'll like you too!
Follow Us On Facebook!