The mini hot-rods of Berlin
Are they just accidents waiting to happen?
26/07/2013 19:37 |
|
Comments:
Yes, it's smaller than a hot-rod and it doesn't have a V8, but the style is similarly edgy. When will they pop up over here I wonder?
Every city has its characteristic vehicle. It's hard to imagine London without the double-decker buses, New York without the yellow cabs or New Delhi without the tuk-tuks. Now Berlin is about to get its own definitive vehicle too: the mini hot-rod. You may not spot one on every corner yet, but the strange little vehicle that looks like the lovechild of a go-kart and a soap dish is becoming increasingly popular.
The stylistic marks are familiar: a shaved, no-frills body with a low-cut windscreen, flames and pinstripes. The car is powered by a 170 ccm, one-cylinder engine instead of a V8, but no Ferrari would turn more heads than such a little fella. If you haven't got 12,000 euros to spend on a mini hot-rod of your own, you can hire one for 78 euros for two hours. The price includes a guided tour of Berlin.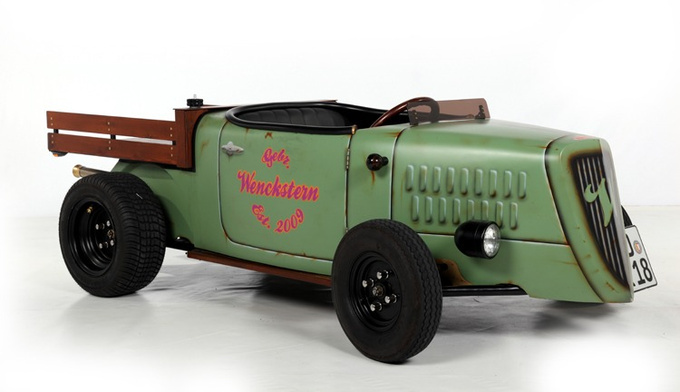 While we think they're brilliant, not everyone shares our enthusiasm for the tiny things. According to Bodo Pfalzgraf, head of the police trade union, the extremely low cars are hard to notice among the other vehicles, which could easily lead to accidents. He does have a point. Even a Smart looks like a towering giant next to the vehicle the size of a small bathtub.
Source: hotrod-citytour-berlin.com
If you liked this article, please share it with others so that they may also see it. You can find the Facebook, g+, Twitter, Reddit and Pin It! buttons at the top of the page.
Dear reader, please like us whether you came here intentionally or not. We'll like you too!
Follow Us On Facebook!