The Romanian off-road supertruck
Not made for showing off
The all-terrain Ghe-O Rescue was intended for saving lives and can even be made amphibious with the addition of a few accessories.
Although the two vehicles best known for their off-road abilities are the Land Rover and the Hummer, they can be topped easily if everyday use is no priority. The Rescue, an emergency vehicle made by Romanian Ghe-O Motors puts both of them to shame.
The rather hideous, pug-nosed, split-screen machine is equipped with huge off-road tires, and as the body doesn't overhang in the front and in the back, the 2.39 m high machine fits into places where vehicles of a more usual build would get stuck. The 5.2 m long, 2.7 m wide machine would hardly have enough room on a public road, but then again it wasn't made as a daily driver. Having enough space for a 620 l water tank and water pumps it can be turned into a fire engine truck, but it can also be used as a passenger car carrying 11. Other interesting accessories of the 3.2 ton machine include tracks to fit over the rear wheels, a foldable top cargo section, a plow system, and pneumatic pillows to make the machine float on water and snow.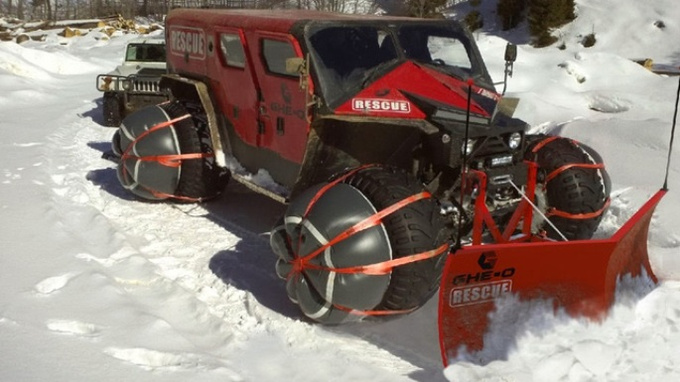 The Rescue comes powered by petrol engines with outputs ranging from 340 ps to 500 ps, or diesel units producing between 218 ps and 304 ps. All of those come with heavy-duty 4WD and lockable axles. It is not only intended to be a rescue vehicle. A military version is also available, but the Romanian manufacturer primarily counts on orders from civilians.
Source: digitaltrends.com; autoblog.com
If you liked this article, please share it with others so that they may also see it. You can find the Facebook, g+, Twitter, Reddit and Pin It! buttons at the top of the page.
Dear reader, please like us whether you came here intentionally or not. We'll like you too!
Follow Us On Facebook!