Tampered data at Mercedes?
Drag coefficient test results
The CLA is said to have the lowest drag coefficient of all standard models today, but recent tests have proven otherwise.
American Car and Driver magazine has tested five hybrid and electric cars in an unspecified wind tunnel, measuring, among other things, their drag and lift properties. According to factory data, the Mercedes CLA is supposed to have the lowest drag coefficient today of all standard series models, except for cars made in small numbers such as the VW XL1, and was therefore expected to rank first. The test results, however, have proven that the Mercedes is not it is said to be.
According to Mercedes, the drag coefficient (CD) of the CLA is 0.23, while that of the CLA 180 CDI Blueefficiency is 0.22, breaking the 0.24 record previously held by the Tesla Model S. The wind tunnel test conducted by Car and Driver magazine has proven that the Mercedes CLA, and specifically the 250 model has a drag coefficient of 0.3 instead of the advertised 0.23, and thus did not only finish behind its rival, the Tesla, but actually came fourth, finishing behind the Toyota Prius (0.26) and the Chevrolet Volt (0.28) as well. Coming last was the Nissan Leaf with a CD of 0.32, considered low aerodynamic efficiency.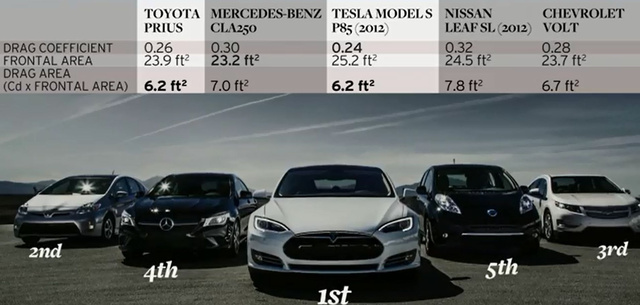 Interestingly, Car and Driver magazine did not name the wind tunnel in which the tests have been carried out, but it is remarkable that the CLA was the only car producing worse test results than those given by the manufacturer. Of course, at this point there is still a possibility that an error has been made by the experts hired by the magazine; hopefully Mercedes will make a statement soon.
Dear reader, please like us whether you came here intentionally or not. We'll like you too!
Follow Us On Facebook!