A Golf I with 1000 PS
Brutal acceleration
The Golf I is almost a rarity by now, so it's particularly surprising to see one reinvented as a top notch race car. But that's exactly what this model is: with an engine of 1000 HP the car probably outruns everything, including all production supercars.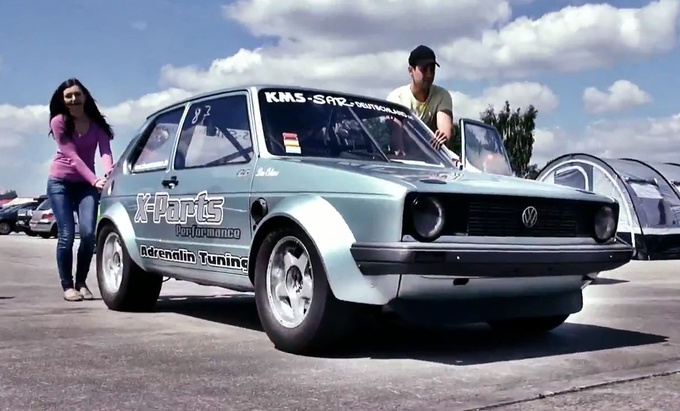 The figures are amazing: it does 0-100 km/h in 2.2 seconds, goes from 100 to 200 in 2.79, and 8.8 seconds after start it reaches 280 km/h. On the quarter mile speed racing track it is capable of covering the distance in 8.7 seconds and reaching a top speed of 270 km/h. Surprisingly, all this power comes from a four-cylinder, 2-litre turbo engine.
Of course, the blower fits in your palm, and the engine itself does not contain many VW-made parts, but the car still pulls it weight and delivers in spite of a boost pressure of 4.5 bars, partly due to the fact that the boost pressure is significantly increased by E85 Ethanol Flex Fuel. The transfer of the 1000 PS to the asphalt is not easy, of course, which is why the builders of the car have opted for a heavy-duty four-speed gearbox, 4WD, and tyres without patterns.
You have to watch the video to see what all of this means in practice. The homely, unassuming grey-silver Golf I always starts with a bit of delay, but still beats all of its rivals easily.
Dear reader, please like us whether you came here intentionally or not. We'll like you too!
Follow Us On Facebook!