A stolen Tesla split into two and caught fire
Tesla Model S crashed and caught fire
A stolen Tesla Model S crashed into cars before catching fire and splitting into two on Friday night in West Hollywood. The incident may revive an old debate about fire safety.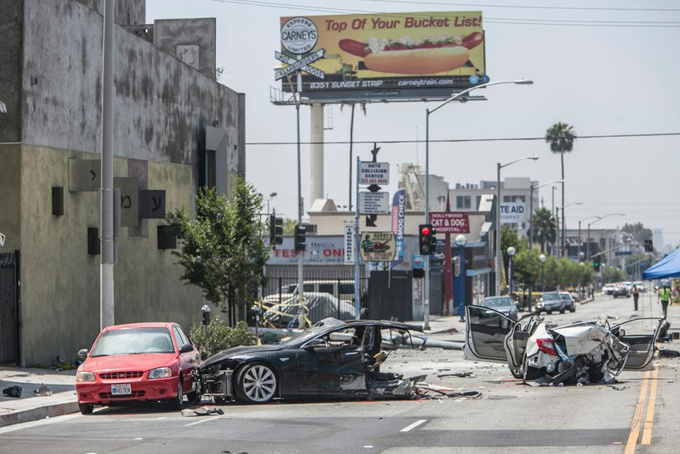 The thief, who had stolen the Model S from a local dealership, led two police officers on a short chase on Friday night before hitting several cars and a lamp post. Although the circumstances of the accident are still being examined, the speed of the electric sedan at the time of the crash is estimated to have been at least 160 km/h.
The crash was so intense that the Tesla split into two along the C-pillar. The back half of the car crashed into a synagogue and got stuck between the walls of two buildings. Eye witnesses have confirmed that the car was in flames and sparks were flying from the wreck, and for a while the police were helpless standing by watching the blazing car. Locals who heard the explosion thought they were July 4 fireworks.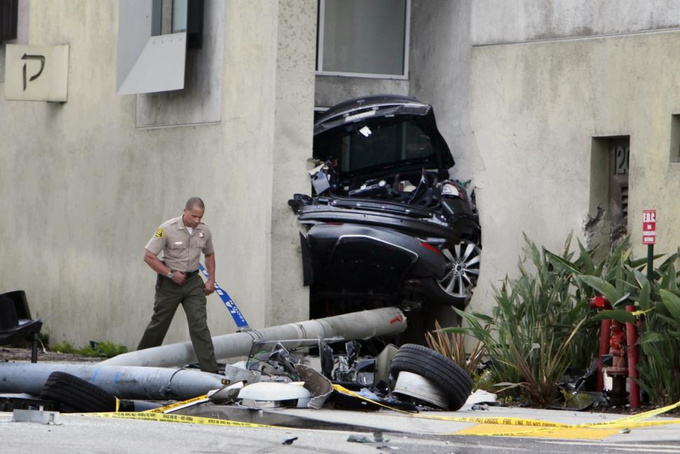 The driver who was thrown from the car was taken to a local hospital and is said to be in critical condition. Four others were also injured but their conditions are unknown. The two police officers were treated with minor injuries at the scene. 
The incident may revive the old debate about fire safety sparked by a chain of events in 2013 when several Model S cars' batteries got injured in accidents. As the incidents wrecked Tesla's image and the company's share prices took a dive, Tesla's CEO Elon Musk asked for a thorough examination to be carried out on the model by the authorities before announcing this March that the cars were getting a three-ply battery protector - a titanium underbody shield and two aluminium deflector plates - stopping hard objects from striking the lithium-ion battery packs built into the floorpan. According to the National Highway Traffic Safety Administration the Tesla S is now perfectly safe and poses no hidden hazard, and the news of the West Hollywood crash is indeed the first news in a long time involving a burning Tesla. The investigation is still in its early stages and Tesla Motors are yet to issue an official statement.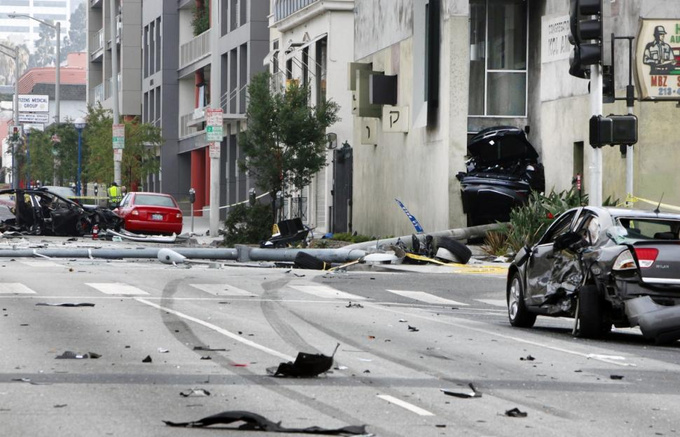 Before pointing fingers at Tesla for yet another one of their cars catching fire, please note that internal combustion engine sports cars involved in accidents have similar issues with fire protection. See Paul Walker in the Carrera GT.
Dear reader, please like us whether you came here intentionally or not. We'll like you too!
Follow Us On Facebook!