When a car stunt goes wrong
Car stunt fail
Watch what happens when a car flip doesn't pan out.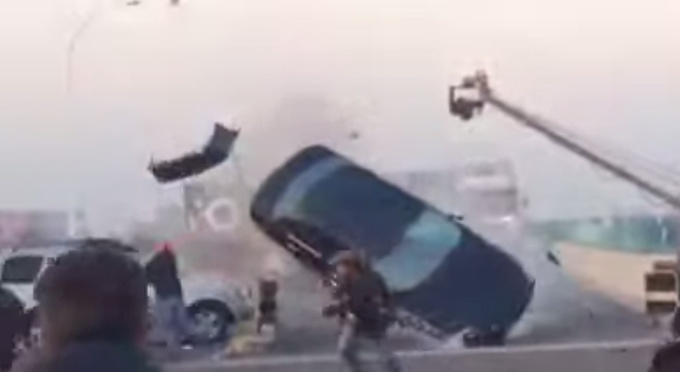 Choreographing and preparing a stunt scene can take days. It's generally done by big team of engineers, physicists, constructors and professional drivers, making sure it all works out. Unlike on this Chinese set.
The car in the video jumps then turns around its longitudinal axis and crashes into a trailer. And that's just the beginning; the problem is what happens once the car lands. It probably drove too fast up the ramp and jumped longer than intended, or simply surpassed the safety limit. Thanks to the staff's quick reaction, though, nobody got hurt.
To create scenes like this, stuntmen generally use a so-called pipe ramp which doesn't have a platform in which the wheels of the vehicle roll on, instead it has a steel tube with the last 20 cm turning upwards that the vehicle's undercarriage slides upon. The right launch speed is key in getting the length of the jump right, as is hitting the ramp with the balancing lever instead of the wheels. If everything works out, the car will not only do a jump, but a spectacular flip as well.
Dear reader, please like us whether you came here intentionally or not. We'll like you too!
Follow Us On Facebook!