Once in a lifetime
Miracle at Santa Pod
Ever seen a crazier accident on a motorbike drag race?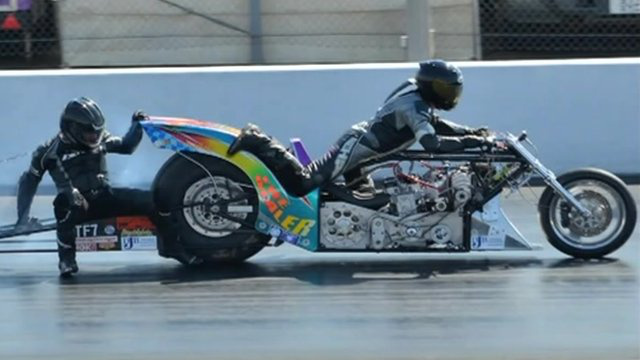 Can there be a bigger adrenalin rush than what a motorbike drag racer gets from completing a quarter mile distance? On an average, it takes about 8 seconds, which is longer than the average male orgasm, and it possibly feels just as good, too. The speed is mind-boggling; if you fall over, you've been had. No protective clothing will keep you from suffering severe burns after sliding many hundreds of metres on the asphalt. If you get on a machine like this, you must be as mad as you are courageous. A bit of luck is needed, too, to escape death like the racer in this video filmed on the legendary Santa Pod race track in England.
If this was a stunt, it probably wouldn't work out 99 times of 100. This racer was lucky he only had to have his boots cut off his leg in the end (see a picture of his horrid leg injuries here, if you must).
Dear reader, please like us whether you came here intentionally or not. We'll like you too!
Follow Us On Facebook!