Only in Russia!
An overturned tank over by the road
So you're driving your car and all of a sudden you spot an overturned tank by the road.
It has become a commonplace by now but Russia really is a great reservoir of traffic absurdities. Where else could you suddenly spot an overturned tank by the side of the road, worming behind a Prius?
The tank in the video is a T-72B, a modern version of a staple soviet military vehicle. The model has been used in Iraq and the Chechen conflict and is still an important vehicle of the Russian tank force. It weighs about 40 tons. Lucky it didn't crush anybody when it flipped over.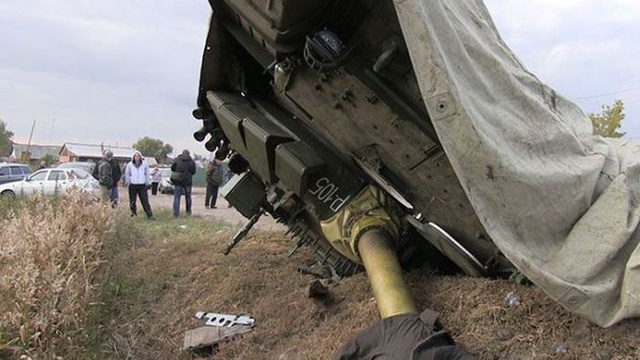 The accident happened in the centre of Omsk, the second biggest city of Siberia. Something must have gone wrong with the fastening and the tank fell off the trailer transporting it. The driver towing the trailer now faces a fine of 500 roubles (approx. €10), while the factory mechanic, who authorized the transportation, a fine of up to 20 thousand roubles (approx. €400). The damage done is probably much bigger, though, just watch the asphalt and the hard shoulder beneath the monster.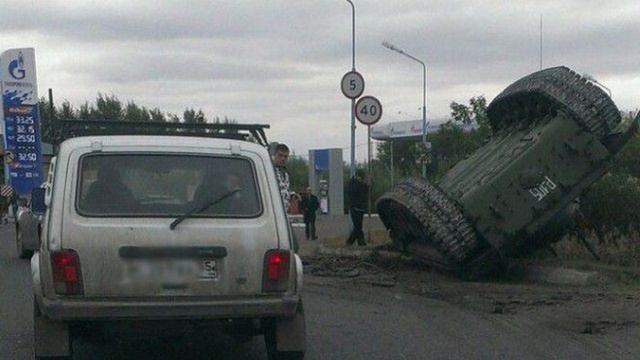 Where the tank was heading to exactly is unclear. Moscow was accused recently of supplying heavy weaponry to pro-Russian rebels in eastern Ukraine, 3,000 km east of Omsk, and several other tanks were spotted by locals around Omsk earlier this week.
Dear reader, please like us whether you came here intentionally or not. We'll like you too!
Follow Us On Facebook!