A VW pickup at the Nürburgring
24/09/2014 09:43 |
|
Comments:
No, it's not an illusion: this ratty old Transporter actually drifts in the Karussell, at speeds others just dream of. Most impressive!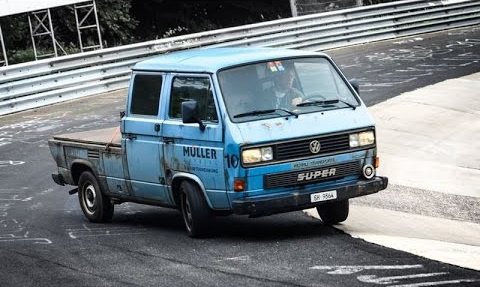 The shabby T3 DoKa - that's the slang term used in VW circles for this double cabin pickup version - has probably been modified to some extent, judging by the way it goes through the famous Karussell, the banked corner on the Nordschleife.
It drifts the outside lane in the curve at about the same speed that the VW Scirocco races along the inside lane, before drifting around a Renault Clio RS. The sight is spectacular, although it is obvious that the T3 is carrying something way more powerful in its back than the usual boxer engine or an in-line four diesel. What it is exactly would be hard to tell; tuners are known to fit the T3 with anything from a six-cylinder Porsche engine to Alfa's V6 as there's enough room behind the rear axle of the pickup.
Dear reader, please like us whether you came here intentionally or not. We'll like you too!
Follow Us On Facebook!