A Lamborghini prank with a bad ending
The fake poo prank
Two kids wanted to teach the driver of the Gallardo a lesson, but he was tougher than expected. The fake poo prank didn't quite pan out.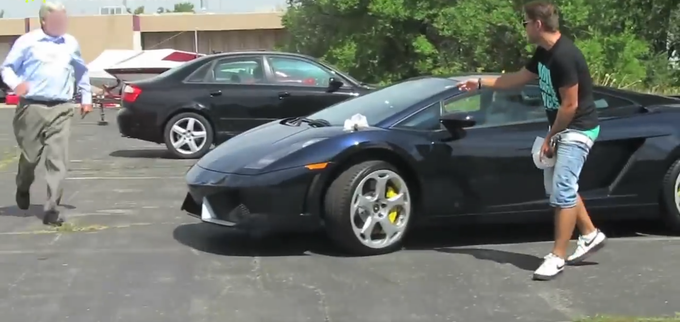 Two guys took offense at an aggressive elderly Lambo driver. They happened to have a can of fake poo and a roll of toilet paper on them. Can you guess what happened next?
They followed him and waited for him to show up by his parked car, but when he finally did, they were in for a surprise. The Lambo driver must have been either a tough Vietnam veteran or grown up in gangland, because he immediately took a fly shot with his Tazer. Seriously, no Detroit policeman would've done it better.
The guys in the video are Czech vloggers ViralBrothers posting prank videos on their youtube channel – some of them far more disgusting than the fake poo prank – and even though this prank didn't work out, the genre must be a lucrative business  if their 10 million hits are anything to go by.
Who knows, the scene might as well be staged. What do you think?  
Dear reader, please like us whether you came here intentionally or not. We'll like you too!
Follow Us On Facebook!