A Jeep from Fiat
Paris Motor Show
Designed in collaboration with Fiat Centro Stile, the tough and austere Wrangler Stealth is a leather-clad softie on the inside.
This is the first time that Fiat Centro Stile has lent the manufacturers and Mopar, the tuning company of the Chrysler a hand in designing a jeep. And that may be the reason we feel we see some army vehicle looking at the Wrangler Stealth.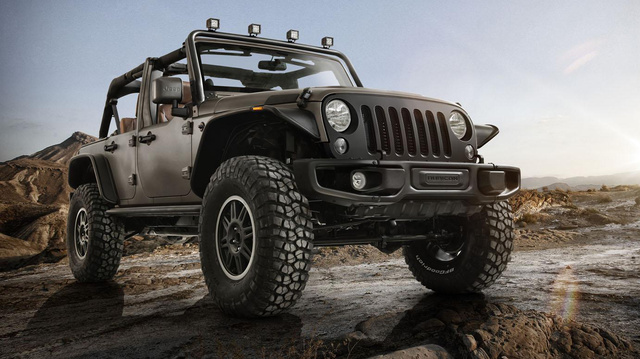 Obviously, the Jeep means something different to the Italians and the Americans. Like most Europeans, the Italians hadn't seen a jeep before the US troops landed, but quickly warmed to them during the second part of the 1940's when the vehicles left behind were used to rebuild the country. Those original, olive green jeeps are what this Stealth special edition reminds me of with its typical mudguards, long but open body and massive rollbar.
The interior is in strong contrast with the austere look of a workhorse. The 37" off-road tyres on 17" wheels, the lifted body and the matte paint certainly don't suggest large, well-designed, comfy seats and leather upholstery, but the makers probably thought those features are essential in a vehicle flirting with the middle-class. Technologically, it offers nothing new apart from the suspension: two live axles, 4WD with lockable differentials, and a 2.8-litre, four-cylinder VM Motori diesel engine with 200 PS and a maximum torque of 460 Nm.
It was probably only made to have something interesting to exhibit. It is unlikely that it will ever go into production, which is not to say that the Italians won't come up with stylish Jeep designs in the future.
Dear reader, please like us whether you came here intentionally or not. We'll like you too!
Follow Us On Facebook!