How on earth did a cat get in there?
A strange sound coming from the suspension
It's practically impossible for a cat to fit in there. But did it? You bet.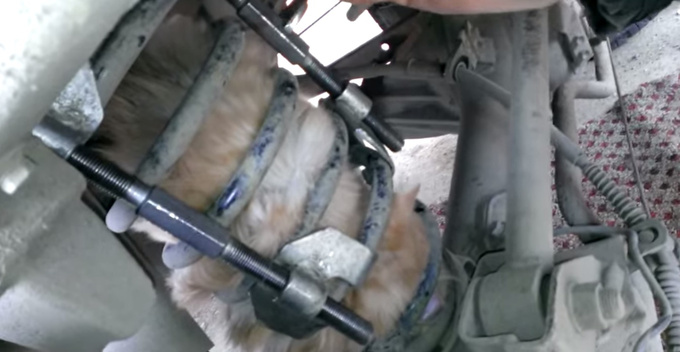 Driving on the roads of Russia, no off-roader will bat an eyelid at the strange sounds coming from various parts of the car. But meowing coming from a parked drive will astonish even the most seasoned ones. Like this driver, who heard the strange noise when he stopped at a filling station. A quick look under the car was enough to confirm the suspicion that a cat had gotten stuck in the suspension. The driver had done 70 km before that, at times at a speed of 130 km/h, and the poor thing was probably in there all along. How it got there remains a mystery, though. But don't worry, folks, the kind-hearted off-roaders freed it quickly and gently.
The car itself is interesting, too. If you take a good look at it, you'll see it's a right-hand drive and judging by the fender mirror, a Toyota Land Cruiser made for the Japanese domestic market. The cheap right-hand JDMs are incredibly popular in the post-Soviet states; there are in fact so many of them over there that the authorities have seriously considered introducing left-hand traffic in some states.
Dear reader, please like us whether you came here intentionally or not. We'll like you too!
Follow Us On Facebook!