The Brazilian motorcycle cop gets the job done
Catching a robber
03/11/2014 08:27 |
|
Comments:
That's what I call fast response. Just what police bikes are for.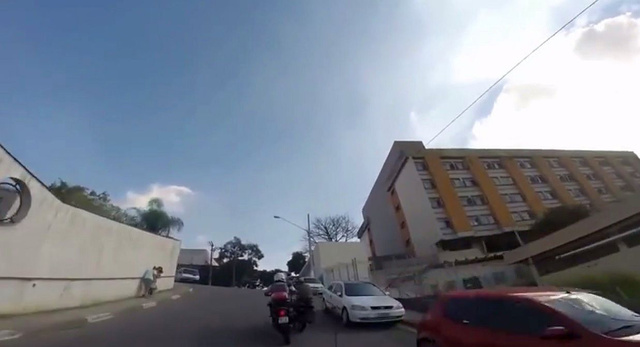 The incident was recorded by a body-mounted camera applied to a Brazilian motorcycle cop on patrol. It's like a scene from an action film: the cops notice the robber, turn around full throttle, chase him in the oncoming lane, and a minute later the suspect is lying on the ground disarmed. Top job.
Scenes like this always makes me wonder why there are so few enduros among police motorcycles. These narrow, light and brisk machines come in handy in urban settings, able to handle bigger kerbs and lines of cars waiting at a red light. The way the two policemen jumped the kerb and made their way through the cars in this situation was amazing. Even leaving the asphalt behind would be no problem for these bikes. Machines almost twice their size would probably perform better on motorways, but nothing beats them in the city.
So why are there so few police enduros?  
Dear reader, please like us whether you came here intentionally or not. We'll like you too!
Follow Us On Facebook!