Does not really disappoint
Mercedes CLA 45 AMG (2014)
15/08/2014 09:44 |
|
Comments:
Everything used to be better back then, including AMG. It was in 1960 that two engineers, Hans Werner Aufrecht and Erhard Melcher reworked the factory engine of the 300 SE because they sought to participate at a touring car race. They built a racing engine, intended for a race car, in Grossaspach. That's how the three letters of AMG came to be, and the acronym immediately stood for victory. Soon the factory could smell cash in this business and began mass-manufacturing modified Mercedes AMG cars.
Today you can get an AMG version of most anything, making it to look like an equipment level rather than the real thing, which would be modified cars (almost) suitable for the race track. There is an AMG for the A-Class and indeed for the CLA series, the CLA 45 AMG. This CLA model seems to be heir to the Mercedes 190 2.3-16 which was a great car of its time although no-one mistook it for a race car.
We have given the CLA's design plenty of praise, yet I'll repeat some of that. Pictures do not do justice to the shape of the car; it is that powerful and sexy. It is a wonderful design both in details and as a whole; possibly the best we have recently seen in this segment. The frameless door windows and the extroverted taillights that combine so well with the weird rear of the car give it away as a car of boldness.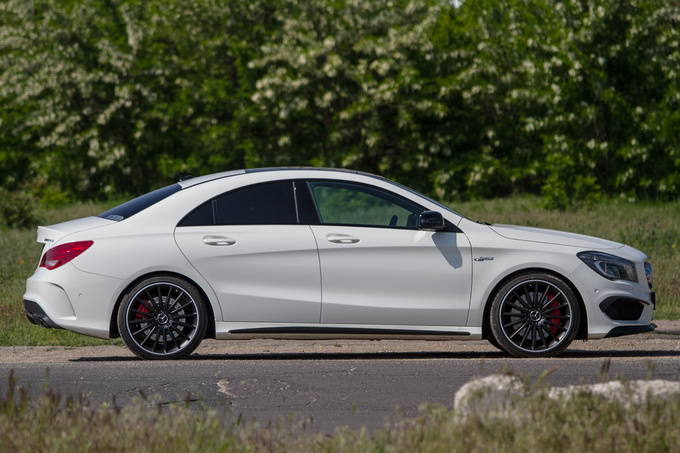 The well balanced proportions combined with these gorgeous alloys make the CLA one of the finest automotive designs in recent years
Behind those frameless doors there is an interior with somewhat limited space but no-one is going to focus on legroom in this car. Even the central monitor, looking like a cheap Chinese tablet PC, is redundant. What does matter here, however, is the AMG-branded seats with excellent contouring and a comfortable overall shape, the red seatbelts and the matching stiches on the steering wheel. I wish the instrument panel was clad in real carbon fibre but it looks like it's just plastic, making you wonder once again if this was a proper AMG or just an AMG Package, an equipment level that hopes to pretend to be what it isn't. Of course the quality is flawless, with some upholstery squeaks here or there, but I blame that on the stiff suspension. Also, this is basically the entry to the world of AMG, a far cry from the SLS AMG.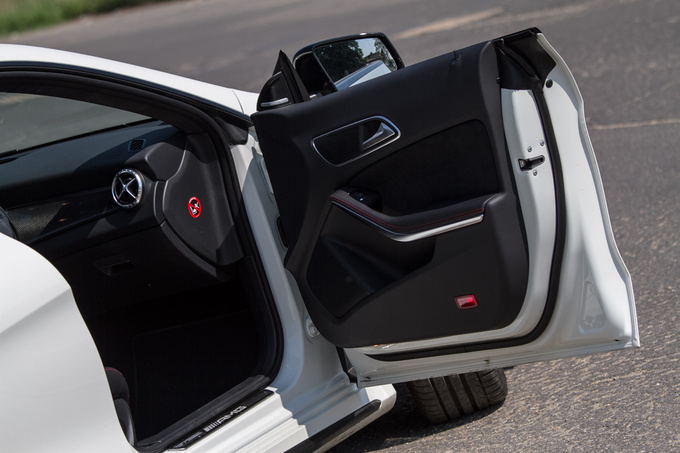 Needless to say the car has all the safety and convenience features available on the CLA. There is Collision Prevention Assist, parking radar and camera, and blind spot monitoring. But it's not these that make AMG a great car: it's the engine, the suspension and the brakes – at least we hope they do. If the CLA 45 moniker made you think you would find a 4.5-litre six-pot, you are in for another disappointment, as the car sports a transversely installed 2.0-litre four cylinder engine. But don't hang yourself yet, take a closer look under those cover panels.
This engine currently holds the world record for power-to-displacement ratio, offering 360 PS out of 2.0 litres. You can't just pop a turbocharger on an engine to achieve 180 PS/litre; you need to purpose-build that powerplant. The twin Borg Warner turbocharger gives you a boost pressure of almost 2 bars; pistons are the forged aluminium type, running up and down in cylinders with special surface treatment patented by Mercedes-Benz. There is a water-cooled intercooler, the engine has electronically controlled oil cooling and controlled water cooling. All tubes and hoses are AMG branded silicone units, in anticipation of hard core Autobahn stints or the occasional track day.
All of these modifications yield 450 Nm at 2250-5000 rpm, and 360 PS at 6000 rpm. There is an obvious turbo lag throughout the rev range, and the fast-shifting gearbox makes it all the more obvious. That's right, this is a sporty turbocharged engine that will rev up to 6000 rpm, yet has enough grunt at low revs. It's all there in the specs, I knew what to expect but it surprised me nevertheless.
The first element of surprise came with the sporty 7-speed GTronic that is now called AMG Speedshift DCT 7 and is one of the finest double clutch gearboxes available for street use today, including nominees from higher price categories. It is not particularly refined in Comfort mode, with a slight tendency to hesitate, but flick it to Sports mode and everything falls into place. It is lightning fast, and it rapidly adapts to our intentions and driving style. It will shift modes fast, keeping gears longer or shifting down earlier if needed. It is so intuitive you couldn't do it better yourself. All it asks of you is that you don't play soft but push it hard; the AMG gearbox appreciates some heavy footed driving.
The other element of surprise is the exhaust note, underlined with some popping under downshift or engine braking. It's not quite as overwhelming as a powerful WRC car from 2006 or so but it's mighty impressive for a street car. This was certainly assisted by the optional AMG Performance exhaust system which may cost around €500 but I am telling you, it's worth every single cent. It's also stainless. It made me do all sorts of irresponsible things such as chasing it to 5000 rpm in first gear, then shifting to second as the exhaust let out a series of rips, then engine braking immediately and slowing down with some crackling. It sure brings out the beast in you.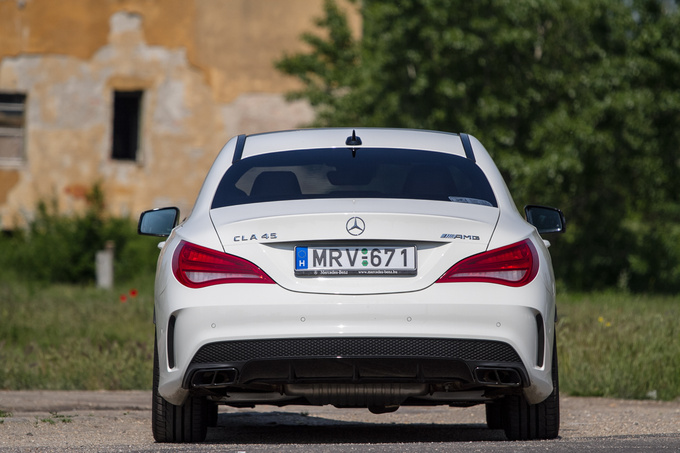 The upgraded 4Matic all-wheel-drive remains discreet if not for the fact that there is unbelievable traction as we accelerate from naught to a hundred in four point seven seconds. There's no jerking of the steering wheel, no wheel spin at all. Sure, the 235-wide Dunlop SportMax tyres also play their part in this, but jeez, 4.7 seconds, that's a very short time. The car hesitates a smudge, then catapults like it wants to orbit the earth. Deceleration is just as vehement and powerful. We have no idea what these brakes would be capable of on the track but there is zero chance of fading in street use; it has a pressure point reminiscent of racing brakes.
As we test these capabilities, popping the exhaust and screeching the brakes, consumption will creep up to around 20 l/100km which is normal. The engine capacity may only be 2.0 litres but you can't have this kind of power without proper fodder. What is slightly less acceptable is that no matter how carefully you drive the car, you can never get the fuel consumption under the 10 litre mark, not even if you drive around challenging mobility scooters.
Generously equipped, our test car came with a price tag of €69,000. Direct competitors to the CLA AMG are the Audi RS3 or the BMW 135i. Both would cost roughly the same if similarly equipped. But they have more of what matters, namely cylinders. The five-pot Audi turbo engine or the inline six of the BMW sounds better and runs smoother, no matter how refined the Mercedes four-cylinder unit is. Nothing, not even the AMG Performance exhaust system can make you forget the sound of those powerplants.
Maybe you should cut all the features and go for a plain Jane model with 4Matic, for €50,000. That would still give you the essence of an AMG. While I could have used an extra cylinder or two, I don't think opting for the CLA 45 AMG in this category would leave you with the lingering feeling that you have made a bad decision. Except maybe as you unsuccessfully try to get back the keys from your wife, because there is a slight feminine touch to the sexiness of this car.
Dear reader, please like us whether you came here intentionally or not. We'll like you too!
Follow Us On Facebook!