Lowest acceptable denominator
Citroën DS3 PureTech 82 Limited – 2014.
11/09/2014 15:11 |
|
Comments:
When introduced, the DS3 was billed 'premium', which is just a replacement word for two undesirable attributes: 'luxury' and 'expensive', the former alluding to wastefulness, and the latter being an absolute taboo in the marketing world. Hence, premium.
Well, here's a premium smack across the face, then: the wonderful DS3, oft praised by yours truly and co., is now available with a three-cylinder, 82 PS petrol engine. That's just a small step away from the DS3 Panel Van, I thought, although that was before I drove the car.
Whether explicitly or implied, the DS3 has been attempting to mimick the MINI: a wonderful exterior with an exciting cabin – apart from a few suspect details. But the illusion is flawless: the DS3 is available in a two-tone format, with a contrasting roof in black or white, or else. This is a no-cost option for this limited edition model, which in itself is rather surprising, provided you usually have to pay extra if you want your car in anything other than plain white.
DS3 has the edge over the MINI inasmuch as it does not need to play the retro game; designers were free to come up with any good-looking design. Actually, this is much harder a task then just re-tracing the same old MINI shape over and over again, but the French did a great job. They were only limited in their imagination by having to rely on the technical content of the Citroën C3; on the other hand, they were free to make it as desirable and masculine as they wanted to. They got slightly carried away with the premium thing, putting too much bling on the car – there is chrome at the foot of the wing mirror, over the rear license plate, even on the side moulding – but they managed to keep it tasteful – sort of.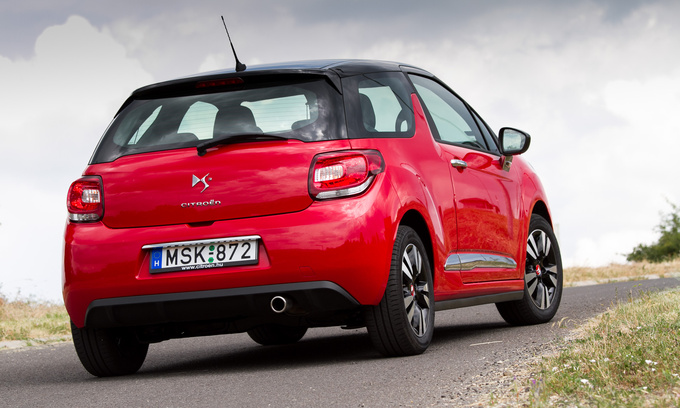 Here's another great perspective. Technically speaking, the DS3 is just a three-door C3 but you really can't tell by just looking
Interior space is alright, although what could be seriously expected from a three-door supermini? Rear seats are actually functional; what's more, the car is specified as a five-seater, so using the central stool in the back is a legal option. The luggage compartment is 285 litres which is nice, although not amazing, for a supermini.
So what exactly makes this car more premium than an average B-segment vehicle? The gauges are pretty, the instrument panel is pleasant to touch, as opposed to the hard, easily scratched surface you'd find in an entry level C3. Seats are generously sized and comfortable, they return to their original position after you let your rear passengers in or out; there is black headliner just like in a BMW M model; there are colourful details on the IP – the list goes on.
However, affordable luxury necessitates details such as the orange display in the middle of the dashboard. A remnant of the Peugeot 206 era, it sports millimetre-sized pixels; hardly acceptable in an age when your iPhone's Retina display crams 128 pixels into the same space. Instead of building a multi-function steering wheel they resorted to clumsy pods hidden behind the spokes. PSA has been using these for over 15 years and it is high time to bid them farewell.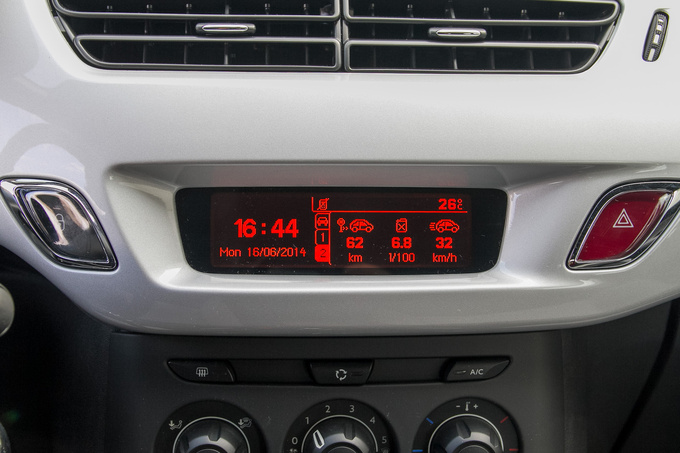 The only automotive display in the world that you cannot read wearing polarised sunglasses. And this hasn't changed in fifteen years
Anything else? The audio sounds a bit muffled, despite the subwoofer installed in the back which makes it sound like the music is coming from the car in the next lane. Then there is the manual aircon which, while certainly not premium, is actually nothing to get grumpy about. It works; what else could you want?
Before getting belligerent about the 82 PS atmospheric engine it is a good idea to see how low competitors dare bid in this game. The next generation MINI gets its price right by attaching a turbo to a 1.2 three-cylinder engine, weighing in at 102 PS. Then there is the Audi A1, a pretty sight indeed, but with a 85 PS, albeit four-cylinder, entry level engine. So no, there is no need to bash Citroën about this engine.
Now, we are not saying 82 PS is enough. It isn't. At least not when your daily driving routine involves challenging steep inclines – if it does you may be forced to shift back to first gear to keep going. If you are planning to tow a trailer or a camper, or to drive from Budapest to London and back with five adults on board, this may not be your ideal choice of vehicle either. But really, if you don't already know that reading the specs, there is not much I can do for you.
So yes, the 1.2 litre engine is only suitable for lightly cruising the planes, but if that's all you'll be doing, it is a very fine choice indeed. Fine because it does what you want it to do. It's highly predictable: full throttle equals 82 PS, lift off the accelerator for zero; and the power will always be proportional to whatever you do in between these two extremes. You will never be overwhelmed by acceleration but it is just fine for regular motoring. What this engine has over its 130 PS turbocharged sibling is linear power delivery.
  If you will be driving around with 116 Nm on tap you will definitely need a gearbox with optimised ratios. In this case, you run out of second gear at around 80 kph, and while third gear is not exactly suited for spirited acceleration it will get you up to highway speeds and keep you there. You won't be abusing your indicator lights with excessive overtaking manoeuvres but if peaceful travelling is all you have in mind, this three-pot déesse will do that for you because it has a rather torquey mid-range. Engine speed is a relatively modest 3600 rpm at 130 kph, despite the five-speed gearbox. Having said that, the 'box is not exactly smooth: while the lever moves with precision, first and reverse gears almost never engage at first try, and it is prone to get stuck in most other gears too. The entry level DS3 offers mediocre acceleration at 12.3 secs to 100 kph.
     It takes some insulation wizardry to make a good three-cylinder engine, and Citroën knew that. While three-cylinder engines have a typical, less than engaging sound, they are alright if muffled. Citroën also did something to the exhaust system because there is no tell-tale sign of the odd number of cylinders either. Equipped with this little engine the DS3 weighs less than a tonne, making it a rather useable powerplant, and the lack of a turbocharger gives you a peace of mind. It is, after all, a modern unit of engineering with a balancing shaft, a variety of friction reduction technologies, and a long-life timing belt.

Add to that the pleasantly modest fuel consumption, with around 7 l/100km in urban traffic or on the highway, and easily under 6 litres on country roads, at 90-110 kph. That's pretty respectable for a modern petrol engine. 
While all of the above would make the DS3 a run-of-the-mill supermini, its chassis sets it apart from the rest of the pack. Or at least makes it a pleasure to drive. While the 207 PS DS3 Racing has one hell of a brilliant suspension, who would have expected the 82 PS entry model to be so sprightly, direct and responsive? You just don't get that these days. Sure, it sits slightly lower than your average city car, and the front skirt has a slight tendency to scrape the ground, but that's alright. You will fall in love with the DS3 because of the steering and the suspension, and nothing can take that away from you, not even the 82 PS engine. Brake feel could be better if Citroën replaced the somewhat mushy rear drums with discs, but deceleration is nothing to complain about.  
At the time of writing, Citroën offers two limited edition models, the amazing DS3 Racing and this 1.2-litre three-cylinder model. The Racing model costs over €30K and gives you unmatched fun-to-price ratio. With the eclipse of the old four-cylinder engine and the dawn of the small three-pot one, DS3 smashed another price barrier. The illustrated model, with 16 inch wheels and a duo-tone body can be yours for under €13K (depending on market). True, for that kind of money you can almost get a C4 instead if you also trade in your old banger, but if you don't need the bigger car, the DS3 is probably the last enjoyable, uplifting specimen among affordable superminis, simply because it offers a good drive with as little as 82 PS. And that's something to write home about.
It won't win you over on power but it's living proof that lack of horsepowers does not necessarily get in the way of your driving enjoyment as long as you know its weaknesses and steer clear of passengers or elevations. On the bright side, the 82 PS three-pot engine is rather thrifty. Even with this smaller engine the DS3 remains the car we knew and loved, with spirited steering, and a stable and positive chassis. It is well endowed, giving you the full safety package, although settling for the basics when it comes to convenience, but overall it is priced right, considering.
Dear reader, please like us whether you came here intentionally or not. We'll like you too!
Follow Us On Facebook!