Buying an SUV for a Golf's price
Volkswagen Touareg 3.0 TDI (2005) – Volvo XC90 D5 (2007)
Depreciation hits full size SUV's like a freight train: it's fast, heavy and unstoppable. After five to seven years of service they almost seem affordable. What can you get for your money? A Touareg or an XC90, for instance. But does that nametag still come with a quality vehicle?
It seems to me that by the time the two vehicles we found at a used car dealership (a VW Touareg, 2005, and a Volvo XC90, 2007) went up for sale, they had been losing their value on a daily basis. . What can they still do for you? Well, the Volvo is younger and as a seven seater it is also more versatile. The Touareg has two more years under its belt and can only carry five passengers, but it has a 3.0 V6. Sure, the car was also available with a five-cylinder in-line diesel (practically the mighty 5.0 V10 cut in half) but it was never a blockbuster against the V6. Why settle for five when you could have six?
Indeed. A clear winner in this bout: 185 PS and 400 Nm stand no chance against 225 PS and 500 Nm. The Volvo XC90, powered by a 2.4-litre five-cylinder turbodiesel, is unquestionably an underdog in this fight. The difference is so epic – even with more than 180 000 kms behind them – that we could not pass an impartial judgement of these two behemoths at first sight.
It does not take a degree in behavioural sciences to realise that the number one (perhaps sole) reason these cars are purchased in Eastern Europe is to sweep everyone out of way on the highway. As a result of their vast power reserves driving at legal speeds feels like a leisurely autumn stroll. These oversize, all-wheel-drive off-roader look-alikes are also ideal for towing a trailer, taking a ride to the horse ranch or down to the harbour.
The Volvo is longer only by 5 cms. We can already guess how much space it there in it in the third row. The Touareg (wisely) has got only two rows of seats
Driving fast and hard, however, has taken its toll on the brakes. The disks look worn and their stopping power, like the original purchase value of the cars that host them, is all but gone. The tyres are also long in the tooth (and short in the tread depth) but they'll make do for a short while. A very short while, that is, and then comes replacement time. The Volvo comes with a full set of winter tyres and that is a relief. Moneywise, that is. A quick check on the internet will tell you that a single tyre for the Touareg costs 100-130 Euros apiece if you settle for budget brands; and more like 140-190 Euros if you go for brand names like Continental, Pirelli or Michelin. And that is for the default size (235/65 R 17), while this specimen is equipped with 18" wheels.
This puts the price of the Touareg into a whole different perspective. Its €13 000 asking price won't fetch you a new Golf, not even an 86 PS base version. And yet, used or new, luxury has its price. That's why most people rather spend this money on a compact car – a Golf, a Focus or an Astra. Those few who opt for the Touareg instead are rewarded with a taste of the Phaeton (same era, similar style). There are of course differences. Inferior materials were used for the centre console, and the controls knobs for the adjustable height suspension are bulkier in the SUV. And this suits the Touareg well, since the entire vehicle is – how to put it mildly – bulky.
The interior of the Volkswagen makes a far better overall impression. For one, it sports brown, rather than black leather, and the upholstery has survived these seven years in surprisingly good shape. The only spot that shows substantial wear is on the side of the seat, where your leg brushes against it when you enter the car. Controls for the windows and headlights are also worn, showing the bare white of the plastic like you can see in old Audis. And that's a shame because apart from these faults the interior shows very little deterioration. Rattle has also been kept at bay over the years.
Air suspension: Must or Bust?
Air suspension can give you more trouble than a simple steel spring suspension. Honestly though, that is partly due to the fact that you don't really care if your steel springs have sagged and lost their tension as long as they do not break. The Touareg has been manufactured with both types of suspension but the non-pneumatic version was only available with smaller engine models.
It also means that as the car enters into the age of 5-8 years, you can expect problems with your suspension. Exactly, what kind of problems, you may ask? Well, it is like that nasty male organ: as the suspension compresses and rebounds the rubber bladder gets rubbed and worn and finally punctured. If you don't spot and mend this in time the compressor will keep running to make up for the leak. Continuous operation will cause premature wear and you will be paying through the nose to set that right. Brace yourself, here come the figures.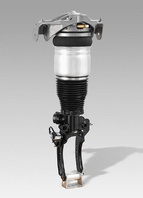 Scrapyards will let you have an original but used compressor for the air suspension system for €300-400. Alternatively you can order an OEM unit from Wabco for €500, widely available on Ebay. That isn't exactly cheap, is it? Neither are air springs, priced at €300 apiece. Of course you must put this into perspective, and weight the prices to the fact that you sit in a Touareg or a Cayenne, not just any wreck you pick up for a hundred Euros. Comfort (and adjustable ride height) comes at a price. End of argument.
So what to look for when buying a Touareg (or Cayenne, Q7, Mercedes ML, GL, Range Rover) with an air suspension? Ssimple: ask the owner to stop the engine – sometime they'll try to sell you a lemon with the engine running. As soon as the engine is killed you can hear the hissing noise of the air escaping. Wait a bit longer and you can also see the car sinking gently at one corner. Or, you can choose the simple way and check the instrument panel if the warning light is on. Sometimes the entire control unit is blown: in this case the car just won't lift off the ground – don't be fooled by claims of a lowered suspension.
Dear reader, please like us whether you came here intentionally or not. We'll like you too!
Follow Us On Facebook!