There comes a time in her life…
Used car review: Toyota FJ Cruiser – 2009.
18/08/2014 12:03 |
|
Comments:
There is this weird duality about Toyota. They can design boring cars in a blink of an eye, yet once in a while they come up with models so extreme you'd expect from small scale custom builders. The FJ Cruiser belongs among the latter.
Purely technologically speaking, this car is nothing to write home about. Well, actually, it is, if you are not used to body-on-frame constructions. The FJ shares its foundations with the 4Runner from a decade later. Called the Prado Platform, this actually originates from the 1984 short wheelbase Land Crusier. It is a ladder frame construction with double wishbones up front and a rigid axle in the back. Technologically, the FJ Cruiser derives from the J120 which, apart from the Land Cruiser Prado, was also host to the Lexus GX.
But what matters the most with the FJ is the design. This design direction, dubbed retro-futurism by Ford, was a huge global hit in the early 2000's, producing vehicles that took classic components, certainly not younger than 30-40 years of age, and modified them to create something far cooler than contemporary vehicles with Plain Jane design. This concept tends to work well from the Mustang to the PT Cruiser, from the Fiat 500 to the MINI. Of course it doesn't always come off perfectly, which is why cars like the Chevrolet SSR and the Chrysler Prowler flopped. Retro itself is no guarantee of success. The FJ Cruiser looks like Toyota suffered an extreme case of midlife crisis, but while you would never expect them to come up with something like this, it actually worked out great.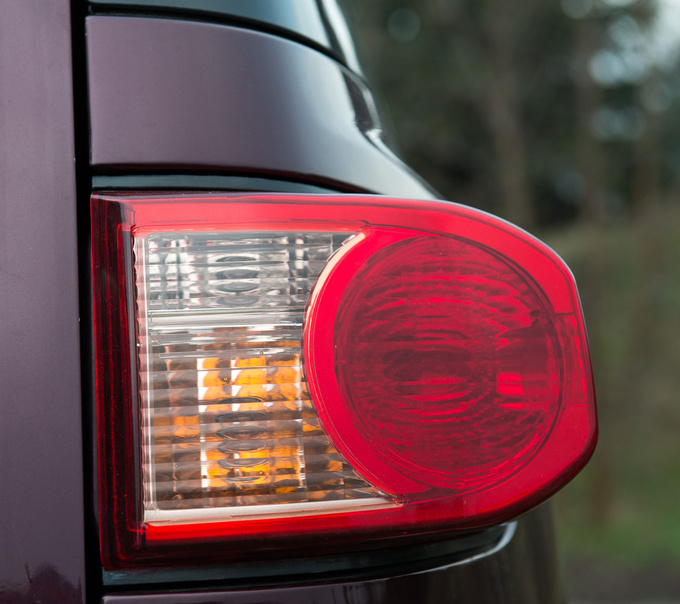 The design connects the past and the future, taking inspiration from Brazil where the original FJ continued to be built until after Y2K, and was known as Bandeirante. The FJ Cruiser is a weird adaptation of the old model: whereas the latter was boxy all over, the FJ looks like a rabbit's tail cut in half, on wheels. Weird, right? The 24-year-old Jin Won Kim, born in Korea but raised in California, was given the task of designing a concept car, and he thought he'd dream big. All he saw as a child were Hyundai's, so meeting the high motoring culture of California was a bit of a cultural shock for the 12-year-old boy. He went on to study at the Art Center College of Design where his teachers included J. Mays, the man who gave the world the new Mustang and launched the successful retro-futuristic school, or Chris Bangle, and I don't need to tell you who he is.
Looking at the FJ Cruiser you can pinpoint American hints and influences of retro-futurism as well. The original FJ was crudely copied after a Jeep, and the Cruiser is as American as it gets. It's loud, it's extreme, but in a smart and stylish way. Obviously it looks good because it was meant to be a design study. If it was a run-of-the-mill Toyota it would probably offer decent visibility yet it would not look half this menacing. Probably the greatest achievement of the design team was that they managed to create a Hummer-like shape with Hummer-like proportions in near-Hummer size, without creating a loathsome vehicle. Whether you find it pretty it or not is highly subjective but this car is no boastful redneck git but a California dude who loves life and lives it to its fullest.
If you take a look at classic car price lists, at least American ones, you will find that coupés fetch a lot more. Nobody wants a sedan, and certainly not a station wagon, even if it's a rarity in impeccable condition. And that's because coupés look good, while the rest don't. Which is why manufacturers are coupéfying their cars these days, turning the X5 into the X6, the Passat into the CC, the E-Class into CLS – all of them faking their coupédom. Whereas Kim's 2003 design was rather progressive, with the FJ trying to look like an off-road coupé, inasmuch as rear side doors are concealed, you could also claim the white roof gives the car a hint of cabriolet feeling. Alright, maybe not, but there is a clear connection to vinyl roof cars from the 60's.
If Kim had been designing a car slated for series production he would have never designed a windscreen this narrow. Visibility is akin to driving an armoured military vehicle, and you need no less than three windscreen wipers – form dictates function. The rear windscreen opens up – it doesn't roll down like on the 4Runner, but swings open, allowing owners to transport longer items (surf boards), while rear suicide doors can be locked open by rotating the hydraulic strut. Watch chief engineer Akio Nishimura explain why the FJ Cruiser looks the way it does to gain an understanding of the design. Actually you won't learn anything but listening to Japanese engineers speak English is a great mind-altering experience; you should definitely give it a try if you haven't. Akio will also show you how a speaker was integrated under the roof upholstery.
The motoring press went berserk over the FJ Cruiser and so did the customers. The car debuted two years before the 2005 Mustang, generally considered the dawn of retro-futurism. Toyota America began off-road testing of the underpinnings of what would be the FJ Cruiser in 2004, and because they wanted a real deal off-roader they replaced the A-TRAC system and overhauled the suspension. One thing they didn't touch was the design. The FJ Cruiser is one of the few vehicles in the history of motoring which are actually the spitting image of their preceding design study. The wheelbase (2690 mm) is 10 cm shorter than on the 2013 Land Cruiser, while the vehicle itself is only 80 kg lighter at two tonnes. This is no lightweight warrior. As for driving it, what would you expect? It drives like anything that carries the Toyota badge and is built on the Prado floor. Except there is zero visibility and everyone is staring at you.
Japanese cars tend to have a more modest choice of engines than their European counterparts. Toyota went all the way with the FJ as the car is only offered with a single powerplant, a 4.0 V6 petrol engine. The plastic engine cover reads V6 VVT-i, and it is in fact the standard SUV V6 from Toyota, used in everything up to the gigantic Tundra. It comes with multi point injection, variable intake valve timing, four litres of displacement, four valves per cylinder, 268 PS at 5200 rpm, and 380 Nm of torque at 3700 rpm. TRD (that's Toyota's in-house tuning workshop) has developed a Roots supercharger kit for the car and it also made some 3000 turnkey vehicles dubbed TRD-FJ. One good thing about this V6 is that it is compact, leaving plenty of space for the double wishbone suspension in the front.
As for equipment levels, there was only one. The financial department must have been all in pain for having green-lighted a risky undertaking like the FJ – just imagine the gauntlet they had to run when confronted by Corolla fans. The FJ Cruiser offered standard A/C, power windows, waterproof seat upholstery and an audio system. Optional items included a reversing camera, rear wiper, and accessories helping you go off-road more freely. The FJ Cruiser was an unexpected sales success with 60 000 vehicles sold in the USA within the first year. They start at around €13,000 on the secondary market. If I hadn't had a chance to drive one I would be all over it but for me there is too much design and too little practicality.
The FJ Cruiser is a rare sight, with used cars costing €13,000- €20,000 in Europe. If you don't mind that it is wholly impractical as a first car, and vastly oversized for a hobby vehicle, you will get a cult car with excellent price-to-value ratio which will remain a milestone in automotive design for several decades to come.
Dear reader, please like us whether you came here intentionally or not. We'll like you too!
Follow Us On Facebook!